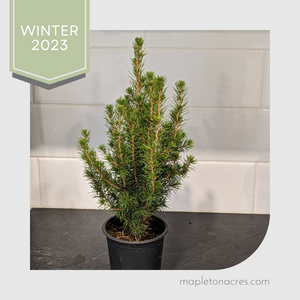 Mapleton Acres
Mini Christmas Tree
Sale price Price $15.00 Regular price Unit price / per
They're back!
Grab your mini Christmas Tree (Spruce Trees to be exact) to easily decorate for the holidays.  Perfect for bedrooms, end tables and office spaces!
Yes, these are 100% real, live trees!  They do require water and sunlight, and can be planted outside in the Spring.
Each tree is unique, but each is around 25 to 30cm tall and is in a plastic pot (diameter - 10cm).